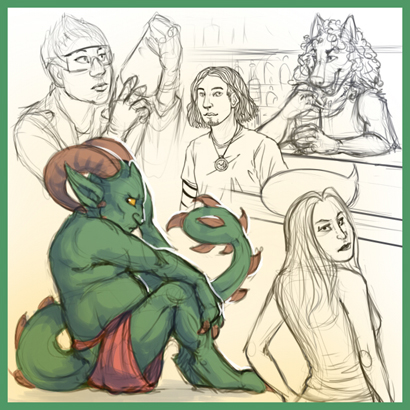 Fascination with the concept of a multiverse and fondness for the whimsical developed naturally in a child raised on a healthy diet of Star Trek, Bill Nye, and Monty Python. The notion that "anything which can happen, does happen" opens up a world of possibility for science fiction and fantasy storytelling.
Ted the Demon is a story steeped in these sensibilities. It's primarily about self discovery, aliens from Earth, romance, and fearing toilets. Also kittens and formidable ladies. All the important things, really.
If you're unfamiliar with the multiverse, in this context, it's the idea that the cause and effect of everyday life ripples outward into an infinite number of divergent realities. In a parallel dimension, perhaps you decided to turn left instead of right on your commute to work. It may change nothing save for a few pebbles getting kicked up by your tires that may not have that day. Or, perhaps a different handful of insects die on your wind-shield than those that did in this reality. Those particular insects don't go on to reproduce the offspring they did in our version of the world, altering the insect population slightly. Maybe something much larger happens, such as involvement in a car accident that leaves you with a permanent injury. Now this version of your self that turned left is markedly different than the self that you know, the one that turned right. This concept spirals outward to include selves that you wouldn't even recognize, and dimensions in which you never even existed to begin with.
Ted's originally from another dimension where humans never even existed to begin with. Now he lives in a version of reality where they do. I echo this sentiment in different words on the character page. That's all you get to know without reading the comic - anything more would constitute spoilers, I suppose.
Ted is written and drawn by some weird-ass hobbit person named Anya Rose Ewing who has survived as a fulltime freelance artist since graduating from the Maryland Institute College of Art in 2011. She enjoys working as a commission artist, but rather fancies the notion of telling some of her own stories. So, here we are then.
All the artwork/visual assets on this site are copyright to that Anya person. The back end of the site was built by the lovely Jon Hogue. I hope you enjoy this thing we made.
Starting out, Ted will update on Thursdays. If you wind up enjoying it and want to see it update more frequently, consider supporting the comic.